How We Measure Up
Butler Brothers is family owned and operated since 1963 and a proud member of:
Butler Brothers was named Builder of the Year in 2008 by the Northern Virginia Building Industry Association.
We emphasize the importance of continuing education and technical training. Ultimately, our clients will measure us by the quality of our people, and we want to ensure our employees and trade contractors have the skills and tools they need to build the finest projects. This commitment to individual enrichment has fostered many long-term relationships at Butler Brothers.
We are a traditional general contractor and our carpenters are employees, not subcontractors or piece-workers. They are career-oriented professionals and receive solid wages and full benefits. We believe this is the right thing for a small business to do and we "walk the walk". A lead carpenter is assigned to your project from day one and remains until final completion. The management of the project is handled by our office in close communication with our field employees. Communication is our number one priority during construction and you will receive cell numbers for both the lead carpenter and your project manager.
OUR KEY STAFF MEMBERS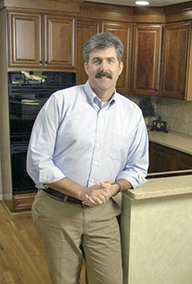 Vince Butler, CGR, GMB, CAPS President
Leadership of company since 1984
B.S., Real Estate Finance – Virginia Tech
Certified Graduate Remodeler (CGR)
Graduate Master Builder (GMB)
Certified Aging-In-Place Specialist (CAPS)
NVBIA – Board of Directors – Senior Life Director
NVBIA – Executive Committee / 2009-10 President
NVBIA – Remodelers Council Past Chairman
NAHB – Life Director, Executive Committee
NAHB - CGR Board of Governors Past Chairman
University of Housing certified instructor
Nationally recognized speaker and lecturer on building, remodeling, accessibility and business management
Appearances on CNN, NBC, CBS, HGTV
Numerous articles in trade and mainstream press
NAHB – National Remodelers Council Chairman – 2006
NAHB – National Membership Committee Chairman – 2008
NAHB CAPS Instructor of the Year – 2012
Appointed by the Governor of Virginia to the State Building Code Technical Review Board – 2013
NAHB – National Education Committee Chairman - 2014
Darrell Sala, Lead Carpenter, Joined BBC – 1990
Monica Butler, Office Manager, Joined BBC – 1994
Brian McEwen, Carpenter, Joined BBC – 2006
Zachary Butler, Carpenter Apprentice (Future 3rd Generation Owner?)
Steven Butler, Swimmer Extraordinary (Future 3rd Generation Owner?)
TRADE PARTNERS
Our trade partners are also professionals averaging more than 15 years working in partnership with Butler Brothers to complete hundreds of projects. They have been selected not only for their skills but, as importantly, for their ability to respect your home and communicate effectively with you during the process. This top quality team does not come without cost, but it will make a significant difference in your experience remodeling your home. We hope you will consider these factors when evaluating the competition.
J.F. Owens Electric, Partner since 1986
Stevens and Wren Plumbing, Partner since 1988
KCSI Roofing, Siding and Gutters, Partner Since 2002
Alpha Ceramic Tile, Partner Since 1998
Wren Mechanical Service, Partner Since 2002
John L. Juenemann Painting, Partner Since 2003
America's Drywall, Partner since 2008
G.M. Addison Concrete, Partner since 2004
M&M Floors, Inc., Partner Since 2002