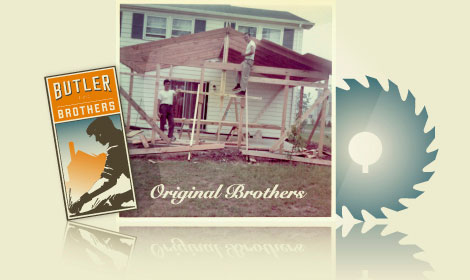 Butler Brothers Celebrates 50 years of Service to Northern Virginia Homeowners
01/06/13

Since its founding in Vienna, VA in 1963 Butler Brothers has successfully completed thousands of remodeling and new construction projects throughout Northern Virginia. We are proud of this milestone as a demonstration of our committment to thoughtful design, technical expertise and customer-focused service.

Homeowners' Equity Grows Substantially!
01/06/13

Great economic news has been hard to find in recent years, particularily when it comes to our homes. But a recent article in the Washington Post highlights a very significant rebound in equity and should gives us all a boost a confidence. Here's a link to the article if you need a little encouragement toward that next remodeling project:

Do you know about Lead Paint?
03/04/11

Federal regulations now require very specific work procedures to be followed when any remodeling is conducted on a home built before 1978. There are no exceptions unless approved tests reveal no lead paint is present. Our firm is EPA Certified and our workers have the requried training to both pre-test and, if necessary, complete the work in a "lead-safe" manner. Be sure to ask anyone working on your home if they will comply with these new regulations. Here's a link to a video from NAHB: http://www.nahb.org/showpage_details.aspx?sectionID=1830&showPageID=3887

Best Bang for the Buck!
01/31/11

Remodeling magazine has released their 2010-11 Cost vs. Value report and while returns are down compared to previous years our region beats the national average in almost every category. There are really no surprises with the traditional high-return projects still topping the list. Window/door replacements and kitchen & bath renovations remain a good solid investment. Adding a bedroom within the existing footprint of the home is another high return project. You can view the full report and download a copy at:
http://www.remodeling.hw.net/2010/costvsvalue/division/south-atlantic/city/washington--dc.aspx.
The article states that the overall return rates are historically low. However, keep in mind that we are only returning to more reasonable levels of return after years of record numbers driven by escalating home prices. Our advice is always to invest in your home for the long term and include your enjoyment and comfort in the equation as well. When you consider all the benefits of remodeling these returns are quite encouraging.

Vince Butler Elected to Association Leadership Position
07/01/09

The Northern Virginia Building Industry Association (NVBIA) Board of Directors has elected Vince Butler as President for the 2009-10 term. He will represent its more than 650 members throughout Northern Virginia. NVBIA supports builders, remodelers, developers and associates in their efforts to provide and maintain quality housing. Vince has previously chaired the NVBIA Remodelors Council and the Fairfax Chapter and serves as a Life Director.

2008 Builder of the Year!
05/27/09

Vince Butler was named Builder of the Year for 2008 by the Northern Virginia Building Industry Association. This honor was awarded at the association's annual Presidents Rally held on May 21, 2009 at the Ritz-Carlton Tysons Corner. Vince was selected from among the over 600 members of the NVBIA in recognition of his contributions to the industry and the trade group.

Butler Brothers projects and clients featured on HGTV special.
01/15/09

Three of our recent projects will be featured on HGTV's "20 Ways to Add Value to Your Home" airing Sunday, January 25 at 5:00pm ET.
Coming in at #14 is a major kitchen remodel we designed and built for Mike and Marcia Pickett in Oakton. The #6 project is Jim and Sandra Lamberti's attic addition above their garage. (Full disclosure - the Lamberti's have had Butler Brothers complete just about all 20 ways over the many years we've enjoyed working for them). Be sure to stay tuned for the entire show because we have the #1 project with Jeff and Kathy Gray's beautiful makeover of the exterior of their Vienna home. Thanks to all our clients for allowing us to feature their homes and being "stars" of the show. By the way, you just might recognize one of the "experts" on the show as our very own company president Vince Butler. Hint: he's the one with the moustache.

Visit Us at the 2008 Parade of Homes
09/19/08

For the 7th year, Butler Brothers will showcase a recently completed remodeled home in the NVBIA Parade of Homes on October 4 and 5. Please plan to tour this beautiful project between 10:00am and 4:00pm either day. The first floor makeover is centered around a spectacular new kitchen while the upper level features a new master bathroom. The entire project was completed within the existing footprint and demonstrates that you don't have to add-on to create your dream home. For more information and directions please visit http://www.vaparadeofhomes.com/2008/butler/index.html. We hope to see you there!

Vince Butler Named to NAHB Leadership Position
02/21/08

2008 Chair of the 251,000 member National Association of Home Builders Membership Committee
At the conclusion of the NAHB Winter Board meetings held at the International Builders Show in Orlando Florida, Vince Butler was named as the 2008 Chairman of the trade organization's Membership Committee. He will help lead its efforts to increase membership and provide valuable services and benefits to its current members nationwide. In addition to this new position, Vince has served as a national director since 2001 and was the 2006 Chairman of the NAHB Remodelors Council (now the NAHB Remodelers). He will also serve on the NAHB Executive Board in this new position.

Butler Brothers Honored for Helping Iraqi War Veteran
03/01/07

The National Housing Endowment awarded its Builder Achievement Award for Outstanding Community Service to Butler Brothers for its work helping a local Iraqi war veteran, Jay Briseno. Jay was severely injured in Iraqi in June of 2003. For more information on the project and the award go to http://www.nbnnews.com/NBN/issues/2007-04-30/Endowment/index.html. If you would like to read more about Jay and his heroic family visit http://www.caringbridge.org/va/jaysjourney/.